The Free Gas Delivery Day Changes from a Sunday to Friday from 6th Nov 2020
Gas Botte Deliveries
30th October is the last Sunday that Gas will be delivered free, before reverting bank in March 2021.
Gas delivery will change to each Friday, with exception of Christmas & New Year from Friday the 6th of November 2021.
Manage your gas stock levels carefully and make sure you have a spare available all times.
Should you require a Gas bottle out with the free Friday delivery, please bring your gas bottle down for exchange diring office hours only.
The free Service is unavailable outwith a Friday therefore the relevant callout charge applies with pre payment required during office hours only.
The Park closes 17:00 Sunday the 15th of November 2020 unless the Winter Stay option is selected.
Please remember the electric to all caravan will be turned off to all unless the Winter Stay option is selected. Please consider your fridge and other equipment therein.
Electrical Upgrade Works from 27th - 29th of October
27th of October - 29th of October various parts of the Electric network at Baxter Road, Baxter View and Elde Lane will be disrupted during the day as various cables are changed/upgraded and new electrical equipment is installed as part of the upgrade works.
Tuesday 27th October 2020 09:00 - 18:00, Baxter Terrace, Baxter View Intermittent interuption & preparation works:-. 23 - 32 Baxter Road , 28 - 33 Elder Lane and 1 - 7 Baxter View, should be short periods during the day, all day.
Wednesday 28th October 2020 09:00 - 18:00:- 13 - 16B Baxter Terrace Primary Outage. Remainder Baxter Road short periods.
Thursday the 29th October 2020 09:00 - 18:00:- 1 - 7 Baxter View Primary Outage. Remainder Baxter Road & Baxter View short periods..
All subject to change...
Network Rail Emergency Works
Network Rail turned up annonounced to start Emergency Works on the mainline outside the East side of the Hotel on Monday the 12th of October 2020. This was in reaction to the massive storms back in Septemper.
Normaly we have advance notice to publish in advance, but dure to the nature it has been upgraded to an emergency.
Works will be carried out during the day from the main road in front of the Hotel, in preperation for works to be carried out on the main line when it closes arround 00:00.
Works will be caried out from 00:00 - 05:00 when the mainline is re opened. Noise should be kept to a minimum, however there will be disturbance and if you are a light sleeper, this may affect your sleep during the night. The rooms affected are the front suite rooms on the East side of the Hotel.
Work appears to be carried out Sunday - Thursday for no more than 4 weeks.
Winter 2020 - 2021 Drain Down
The Winter Drain down service will be available from mid October 2020. The schedule to drain down will comence 2 weeks after the parks close down
If you do not wish to use the draining service, the following guide is recomened as a minimum guide we recomend you use anytime the caravan is un occupied..
Click video Link:-https://youtu.be/YDGFRIPyaWA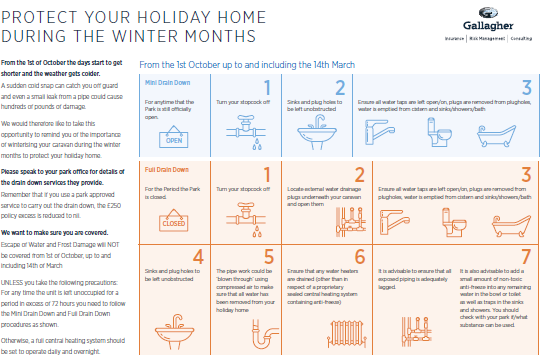 Mail and Package Forwarding, Return and junk mail Purge.
The monthly purge of mail and parcels has been completed for items that are over a month overdue. The mail & packages will be forwarded to your home address returned to sender with the exception of junk type mail..
If you are not in receipt, please refer to originator to provide forwarding information.